Raccoon Removal McKinney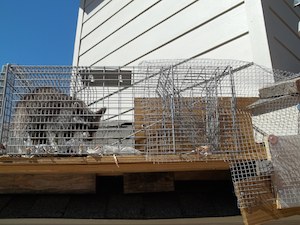 Raccoons can be found living outside of their natural habitats in attics, crawlspaces, sheds, and basements in homes and businesses throughout McKinney and nearby cities.
Raccoons also take up residence under sheds and outbuildings. A shed is normally elevated off the ground and is perfect for raising raccoon babies (called kits). Anywhere they can find adequate shelter, raccoons will make it their home!
Call AAAC Wildlife Removal of McKinney 972-895-7661 as soon as raccoons have been discovered living too close to humans for comfort. We are experts in the trapping, elimination, and relocation of raccoons.
Raccoons commonly use an attic to rear their young, quickly leading to a raccoon infestation and a lot of contamination of the insulation with feces and urine. This may lead to a horrible smell throughout the home, as well as staining of the ceiling, partly due to a raccoon's instinct to set up a bathroom area. In extreme cases or when the ceiling is weak, the accumulated weight may lead to the ceiling falling in (along with any raccoons in that area of the attic).
As you probably guessed, all of this is also bad for the health of those living or working in raccoon infested buildings. There are many diseases that can be contracted from raccoons, such as listeriosis, leptospirosis, raccoon roundworm, and rabies. With raccoon roundworm and rabies, the majority of raccoons across the United States are infected with this parasite that can infect humans too and raccoons are considered a major vector for rabies.
A raccoon will sometimes find itself in a dumpster, window well, or other locations where they become trapped. These potentially dangerous situations will require the wildlife professional to risk being bitten by the raccoon in order to remove it.
It is very dangerous for untrained persons to attempt the removal of a raccoon. With AAAC Wildlife Removal of McKinney, you don't have to! Our wildlife professionals have the tools and training to safely and humanely handle these very strong animals.
AAAC Wildlife Removal of McKinney is your local Raccoon Removal Specialist. If you have a Raccoon Control or Removal need in McKinney, Plano, Allen, Frisco, Richardson, Wylie, Murphy, or a nearby city, call us at 972-895-7661.